Overview
Patrick Bourlet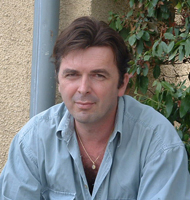 Painting is a beginning that never end.

We must first learn to come to express more and more what is deep within ourselves. As a musician practices scales, work on classical foundations gradually frees his touch to sing his painting.

Even Leonardo da Vinci worked before coming to be what it was.
The quest for perfection is the fuel of the artist, believing that it leads to mort.Quoi be more rejuvenating than to start from scratch in front of each new canvas?

As Pigmalion he must love his work to be a goddess gives life.
The love of his work can enjoy the work of others. Life is a huge share.

Be happy for students to discover the beauty of creation in its Totality
---
For you Women!
What's more beautiful than a beautiful young woman? Alberto Vargas.

One could say that everything is summarized in this sentence. The art Woman must be beautiful to have character, a touch of insolence, but should not be vulgar.
It is this plastic beauty sails in our fantasies, sexy and sensual.
This woman transcends the artist who seeks to sublimate his model. To love women is the essential condition for painting them.


To you women
In times of peace and love you bring,
For events that you let us through and make us Men;


Women I love you!!!
                                               Patrick BOURLET
---
---
---